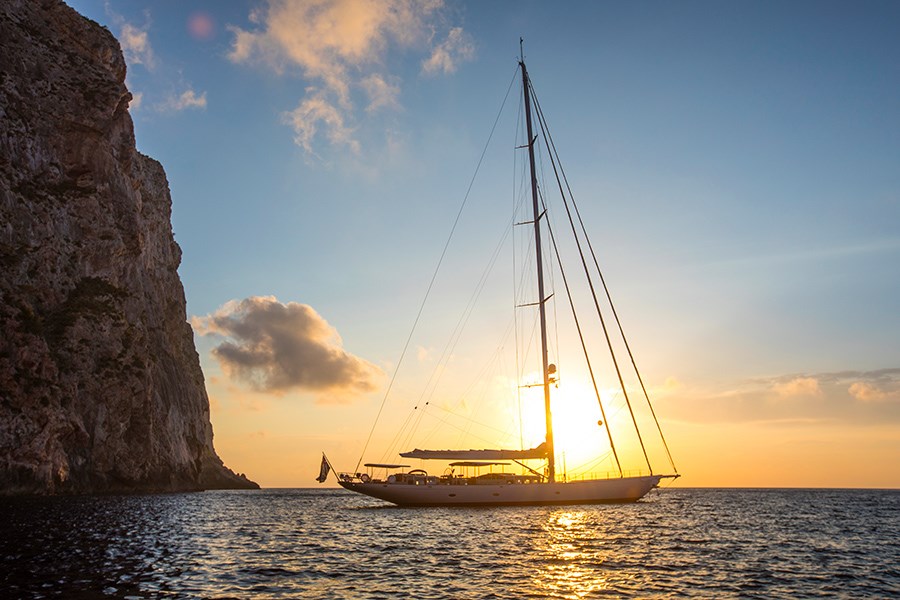 "When I look back on my experience as owner's representative on the superyacht Vijonara, it was a very smooth project from beginning to end. That really depended on the owners and the relationships all the various parties established with them."
Nigel Ingram MCM co-founder

[[BODY:20|left]]

As a former racing sailor and yacht captain, sailing boats are what MCM co-founder Nigel Ingram knows best. He acted as the owner's representative throughout the construction of the 42m sailing yacht Vijonara, the second in Andre Hoek's Truly Classic 128 series. The project had an unusual genesis as her aluminium hull was built at Bloemsma in the Netherlands and she was completed by the Pendennis Shipyard in the UK.

The yacht was delivered to her experienced Swiss owners in the spring of 2018, coincidentally the 30th anniversary year of both MCM and Pendennis. "I had completed two refits at the yard and knew what they were capable of" says Ingram "When the owners visited the yard in Falmouth, they just clicked with the people there and a contract was signed pretty quickly."

The owners had owned several smaller sailing boats, but 42m Vijonara was their first new-build project. As part of the research they had also chartered Atalante, the first Truly Classic 128 delivered in 2015. But they were looking for more than just a carbon copy and brought their own ideas to the table.

Owner had a very clear vision

An early request was for a bowsprit, not just to be able to carry larger downwind sails and for ease of handling with a reduced crew, but also because they enjoyed lounging in the netting while under way. In addition to a revised deck layout with the helm station amidships, an aft owner's suite with an integrated study in the deckhouse, and a gym, they also decided to engage Hermès to devise the interior décor.

"Despite her classic lines, Vijonara is a thoroughly modern sailing yacht with a very powerful sail plan, but those long elegant overhangs also mean you lose interior volume and a major challenge during construction was fitting everything in," says Ingram. "For safety reasons, the owners also requested quite high bulwarks on what is a very sleek hull with a low freeboard. This pushed the deck down and we had to be careful to maintain the ceiling heights below deck because the owner is quite tall."




Another challenge was the decidedly short construction schedule that had to dovetail with the owners' cruising plans. In the event, Pendennis was able to complete the build and fitting out in just 18 months.
"The owners had a very clear vision of what they wanted to achieve and it was my job was to make sure all the parties pulled together to achieve that vision," says Ingram. "Understanding what the owner wants is paramount, but then we have to explain what the constraints are and be very clear about the challenges. Building a boat – superyacht is all about teamwork and the tight build schedule was achieved largely because everyone involved worked so well together."

Also key to ensuring that the project progressed smoothly were the owners themselves, who were closely involved throughout but easy to approach, quick to make decisions and rarely changed their minds.

"A good owner's representative is essential on any new-build project," say the owners. "Not someone who's fighting over every penny necessarily, but someone who can bring together the different partners to make it happen. Nigel was very good at doing that and a gentleman to boot.

Being involved as owners makes the experience much more rewarding, but it's important not to try and second-guess every decision."

A well managed superyacht


Nigel Ingram's role as owner's representative came to end when Vijonara was handed over to her proud owners early last spring. But the relationship continues as the yacht has signed up with MCM's Yacht Management division.

"We much prefer to keep the lines of communication open and stay close to the yacht on a formal or ad hoc basis through the warranty period, or indeed as yacht managers as in the case of Vijonara," explains Ingram. "Well after the yacht has been launched and delivered, our Yacht Management division ensures consistency and continuity of service so that owners can enjoy their yachts with peace of mind."

Hull #3 in the Truly Classic 128 series is under construction at Bloemsma and will be finished in Turkey with Nigel Ingram's acting as owner's representative. Construction of hull #4 has also started and will be completed at Pendennis.